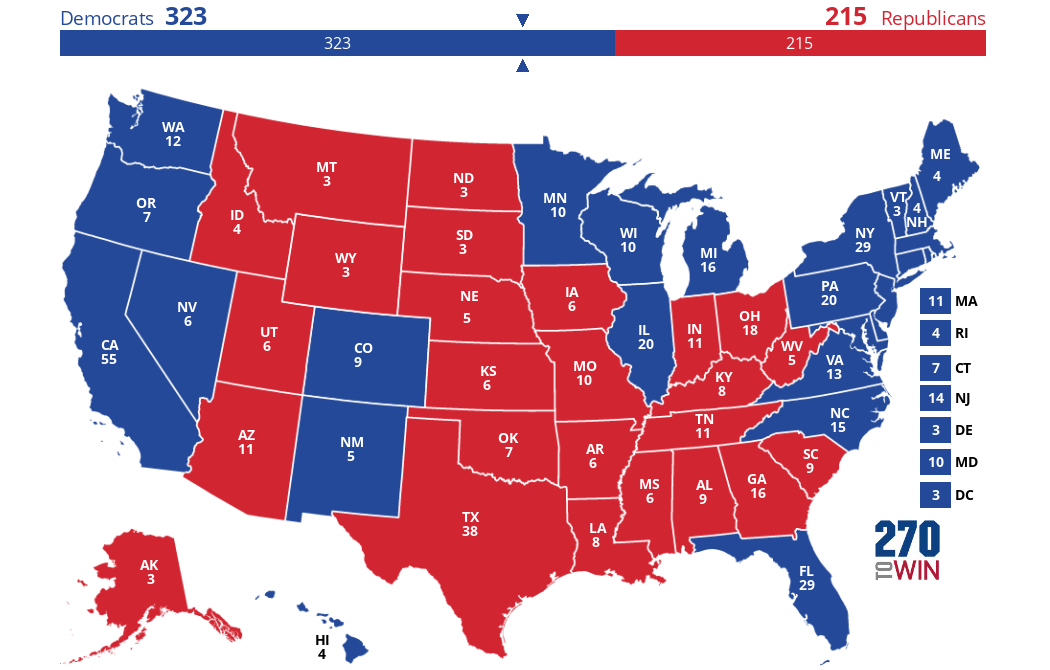 Click the map to create your own at
270toWin.com
Here is the map I am expecting for Clinton vs. Trump. Iowa and Nevada were both 50-50 toss-ups this morning, but new polls have split the difference, with Iowa leaning Trump and Nevada leading Clinton. Here's the numbers I am hanging my hat on.
Electoral college count
Clinton 323
Trump 215
This does not take into account two electors from the Clinton delegation in Washington saying they won't vote for her. Who knows, they might get kicked out of the club, we'll wait and see. Here is the graph of my weekly snapshots. The odds right now are about 99% to 1% in Clinton's favor.
I've read accounts that if Trump can't win, he'd like to out-perform Romney's 206. He's got a good chance to do that, but he isn't facing Obama, who is a much more popular figure in his eighth year than either Clinton or Trump.
The Senate prediction
This prediction is split into good news and bad news. The order depends on your political persuasion.
The GOP currently holds 54 seats to the Democratic/Independent coalitions' 46. My algorithm considers the Democrats will hold all ten seats they are defending, including the close race in Nevada for the seat Harry Reid is vacating. The algorithm predicts three losses for the GOP in Illinois, Wisconsin and Pennsylvania. There are four very close races still in the mix, but the forecast from my algorithm says the GOP will hold New Hampshire, North Carolina, Missouri and Indiana. This will mean the GOP will have 51 seats and retain control of the Senate. I do not have the resources to predict the House, but this doesn't look like the kind of landslide that can make that chamber switch sides.
My competitive side would love to see my algorithm go 90-0 in predictions, but if I miss any, I hope some of my errors give control of the Senate to the Democrats. It's hard to pay attention to anything but Trump this year, but I'll take this moment to remind people that the Republican Party has very few places where they part company with Trump on policy and they have decided they would rather take hostages than enact legislation through the democratic process. Hillary is not going to have an easy gig, but a Democratic Senate would make it a little easier.
Go out and vote and if you are on the left side of the political spectrum, vote down ticket (!) and hope for the best in the Senate. It will take a evil miracle for Trump to come back from his current position.